Among the world's coffee-producing countries, Sumatra is known as one of the heaviest and spiciest single-origin varieties due to the volcanic soil, growing methods and processing practices specific to the region.

Most of the coffee produced in Sumatra, which is a huge Indonesian island off the country's coast, is semi-washed on the farm after harvest and then overnight-fermented in tanks to soften the mucilage layer, which is then removed while they are still at a high moisture content. According to Cafe Import's Web site, "This process is directly responsible for the classic flavors people love in a Sumatran coffee: earthy, smoky, meaty, savory, and bold. Clean cups are especially valuable, and the base notes of that Indonesian profile can be nicely complemented by some sparkling acidity."

This morning we decided to experiment. First, I brewed our new Sumatran coffee as a pour-over, which brought out a lot of sweet red bell pepper. The mouth-feel was on the heavier side, which wasn't a surprise because it is our heaviest green coffee and looks almost blue before roasted. Then we tried the same origin (Sumatra) as a French press, and sipping this extraction made me feel like I was pouring fresh warm caramel sauce all over my tongue. The Sumatran cupping notes from the farm suggest sweet red bell pepper, caramel, floral and lemongrass.

Different brewing methods will highlight different cupping notes, thus making the caramel, floral or lemongrass more dominant depending upon the grind and the method used to extract the coffee. I would guess a cupping score of 86 for our Sumatran coffee, but I have to check with Sally, our green buyer, to be sure. Kale has been keeping the roast on the lighter side of full city for these beans, dropping them at a lower temperature, and not letting them cook for too long. A 12-oz bag of whole beans costs $14.
Powered by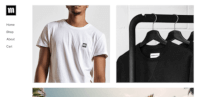 Create your own unique website with customizable templates.