Our first shock came with our very first purchase - the cost of our refurbished Ambex YM-2 roaster. Instead of spending the $1,500 - $2,500 that our internet research suggested, we spent $6,000 (included shipping).
Word to the wise - researching coffee bean roasters online without consulting industry professionals or dedicated trade forums will lead you in the direction of cheap equipment that will, sooner or later, force you to spend more money and be sad.
Thanks to the advice of a few professionals in the industry, we ended up with a solid piece equipment instead of a shoddy piece of shit!
Powered by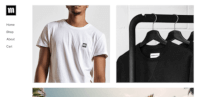 Create your own unique website with customizable templates.